30/09/2019
Forthcoming EBRD/EIB Country Diagnostics for Lebanon
VIEW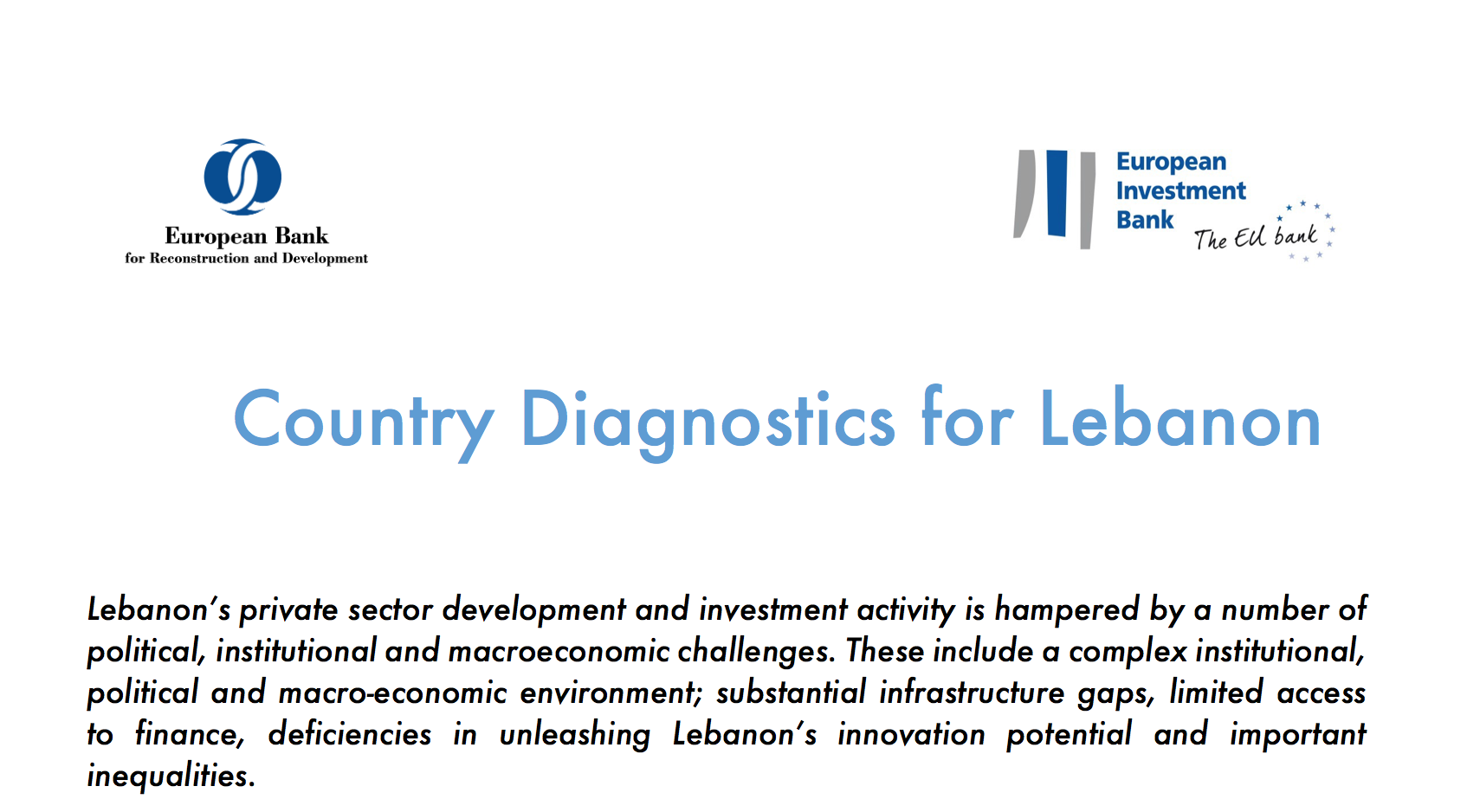 As a part of a joint country diagnostics project, experts on Lebanon from both institutions collaborated to assess the state of play and the main challenges that need to be addressed to stimulate private sector development and investment activity in Lebanon.
See more here.
26/06/2019
Using Country Diagnostics to Inform Policy and Investment
VIEW

May 29-30, 2019, World Bank Group Headquarters, Washington, D.C.
Are country diagnostics a useful tool for evidence-based policy making? How can their use and impact be strengthened? How can partnership among development institutions facilitate knowledge exchange and coordination?
These questions motivated a recent event titled "Using Country Diagnostics to Inform Policy and Investment." The event was organized by the World Bank and the International Finance Corporation, in collaboration with other members of the Country Diagnostic Platform: United Kingdom Department for International Development (Dfid), European Bank for Reconstruction and Development (EBRD), European Investment Bank (EiB), and Swedish International Development Cooperation Agency (Sida).

The event aimed to showcase country diagnostics conducted by the World Bank Group and other IFIs and bilateral donors; share lessons on methods, process, and impact; and discuss ways forward to strengthen the use of diagnostics in informing country programming, policies, and investments of development organizations. The event featured panel discussions with World Bank Group vice presidents, directors, and external client representatives, as well as representative from eight other development organizations; a keynote speech on diagnostics and evidence-based policymaking; and in-depth technical sessions. The rich discussions demonstrated the important role of major country diagnostics in supporting evidence-based policymaking at the World Bank Group and other development institutions.

The event allowed for further coordination and learning across institutions, including all current members of the Country Diagnostic Platform and several other organizations such as the OECD, MCC, and USAID. All participating institutions shared experiences with diagnostic approaches and their role in influencing country programs. Event participants highly appreciated the knowledge exchange, the discussions on how to continue fostering partnership, and in-depth technical sessions on the analytical framework, method, prioritization, and challenges in conducting country diagnostics.